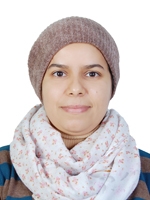 Amel Adouni received the Electrical-Automatic Engineering Diploma, the MSc and PhD degrees from National Engineering School of Gabes, Tunisia, in 2010, 2011 and 2016, respectively. She is currently a postdoctoral researcher at CISE – Electromechatronic Systems Research Centre, University of Beira Interior, Covilhã, Portugal. Her research interests are focused on renewable energies, machine drives, power electronics and fault diagnosis.
Doctorate, Renewable Energy, Gabes, Gabes, Tunisia, 2016.

Master, Automatic and Intelligent Techniques, Gabes, Gabes, Tunisia, 2011.

Engineering, Electric-Automatic, Gabes, Gabes, Tunisia, 2010.