Américo Vicente Teixeira Leite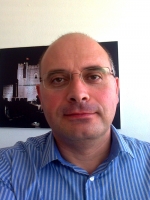 Vicente Leite received the diploma, MSc and PhD degrees in Electrical Engineering, from the Faculty of Engineering of University of Porto, in 1993, 1997 and 2004, respectively. He became Assistant Professor at School of Technology and Management (ESTiG) of Polytechnic Institute of Bragança (IPB) in 1994 where he is professor in the field of Electronics, Power Electronics and Converters, Electrical Drives and Photovoltaic Systems. Currently, he is Sub-director of the ESTiG-IPB. Previously, he was President of the Scientific Council, President of the Assembly of Representatives, and Coordinator of the Electrical Engineering Department. He is the author of more than three dozens of publications in his research fields, namely: power electronic converters; system identification, control and condition monitoring of electric machines and drives; renewable energies systems. He has participated in four projects funded by the European Community.
Leite, A. V.
;
Ferreira, A. P.
: ''III Congresso Ibero-Americano de Empreendedorismo, Energia, Ambiente e Tecnologia: Livro de Atas''; Instituto Politécnico de Bragança (978-972-745-230-9), Bragança, Portugal, 2017.