José Miguel Vieira Alberto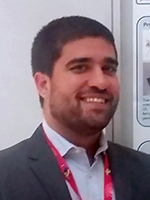 PhD Researcher
José Alberto was born in Coimbra, Portugal. In 2011, he obtained his MSc Degree in Electrical Engineering, Energy branch at the University of Coimbra, Portugal. In 2017, he received his PhD degree in Electrical Engineering at the University of Bologna, Italy, during which time he was a visiting scholar at CIRCE - Research Center for Energy Resources and Consumption in Zaragoza, Spain. Afterwards, he became a Post-Doctoral Fellow at the Institute of Systems and Robotics at the University of Coimbra, Portugal, an Invited Assistant Professor at University of Beira Interior, Covilhã, Portugal and Invited Assistant at the ISEC - Coimbra Institute of Engineering. He is currently an Assistant Professor in the Lusófona University. His research interests include Wireless Power Transfer, Resonator Arrays, Inductive Charging, Fault detection and unbalanced operation of Induction Motors and Linear Motors and Actuators.
Ferreira, F. J. T. E.
;
Alberto, J.
;
Almeida, A. T.
: ''Experimental Study on Three-Phase Induction Motor Performance Under Supply Voltage Unbalance for Star and Delta Connections''; Energy Efficiency in Motor Systems - Proceedings of the 11th international Conference EEMODS'19, Paolo Bertoldi (Editor), , 707-717 pp., Springer (978-3-030-69799-0), , , .