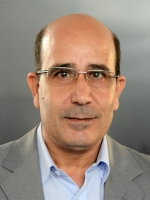 M'hamed Drif was born in Saïda, Algeria, in 1964. He received the E.E. Diploma and the M.S. degree from the University of Science and Technology of Oran (USTO), Oran, Algeria, in 1989 and 1993, respectively. In 2009, he received the PhD degree in E.E. by the University of Coimbra, Coimbra, Portugal. Since 1993, he is with the Department of Electrotechnics, Faculty of Electrical Engineering, USTO. Since 1996, he has been working in the field of fault diagnosis in electrical drives. He has authored several technical conference and journal papers. His teaching interests cover electrical machines. His research interests are focused on modeling and simulation, condition monitoring, and fault diagnostics of electric machines and drives.
Drif, M.
, ''Windings Fault Diagnosis by the Power Signature Analysis (in French)'', Supervisor:
Cardoso, A. J. M.
, University of Coimbra, Portugal, 2009.