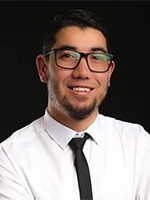 Notice: Undefined variable: position in /home/ciseadmin/public_html/body_member.php on line 269

Khaled Laadjal was born in Tebessa, Algeria, in 1991. He received the BSc, MSc and PhD degrees in Electrical Engineering from the University of Biskra, in 2013, 2015 and 2018. He has been a Post-Doctoral Researcher at CISE since 2019. His research interests are related to condition monitoring and fault diagnosis in power electronics systems and AC machines.
Laadjal, K.
, ''Fault Diagnosis Contribution of Electrolytic Capacitors: Application to DC-DC Converters (in French)'', Supervisor:
Sahraoui, M.
, Co-Supervisor:
Cardoso, A. J. M.
, University of Biskra, Algeria, 2018.