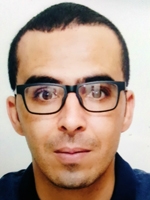 PhD Researcher
Mohamed Yacine Hammoudi was born in Biskra, Algeria on October 5th, 1980. He received the Engineer and Magister diploma and the PhD degree in electrical engineering from the University of Biskra, in 2003, 2006 and 2015, respectively. Mr. Hammoudi is an assistant professor with the University of Biskra since 2009 and he is a member of the MSE Laboratory. His research interests are related to advanced control in power electronics systems and AC machines.
Eddine, M. I.
;
Hammoudi, M. Y.
;
Betka, A.
;
Hamiane, M.
;
Mimoune, K.
: ''Stability and Stabilization of TS Fuzzy Systems via Line Integral Lyapunov Fuzzy Function''; Electronics, Vol. 11, No. 19, pp. 1-15, October, 2022.
Hammoudi, M. Y.
;
Saadi, R.
;
Cardoso, A. J. M.
;
Benbouzid, M. E. H.
;
Sahraoui, M.
: ''Practical Implementation of H-Infinity Control for Fuel Cell-Interleaved Boost Converter''; International Journal of Modelling and Simulation, Vol. 40, No. 1, pp. 44-61, January, 2020.
Saadi, R.
;
Hammoudi, M. Y.
;
Kraa, O.
;
Ayad, M. Y.
;
Bahri, M.
: ''A Robust Control of a 4-Leg Floating Interleaved Boost Converter for Fuel Cell Electric Vehicle Application''; Mathematics and Computers in Simulation, Vol. 167, No. , pp. 32-47, January, 2020.